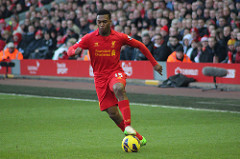 Daniel Sturridge has almost become surplus to requirements at Liverpool, as Jürgen Klopp has found a winning formula without the England striker. With other clubs interested in signing the player and the forward desperately seeking regular first team action, will Sturridge finally cut ties with Anfield in January?
Liverpool are challenging at the top of the table and playing some of their best football in years. Although Chelsea are now the firm favourites for the title, the brilliant football that the Reds are displaying will keep them in the race until the bitter end. Bitcoin sports betting is now available for bettors who want to stake on the Premier League with the e-currency that has made waves in 2016, much like Klopp and his team.
The success of this Liverpool side has come without Sturridge at the forefront of the attack. Instead Klopp has preferred to use a flowing attacking trident made up of Roberto Firmino, Sadio Mane, and Philippe Coutinho prior to his injury. Since the Brazilian picked up the devastating ankle problem, Divock Origi has stepped into the first team and made a strong impression. At the time of writing, the aforementioned players have scored a combined total of 21 league goals, while Sturridge has none to his name.
Since Sturridge's incredible season in 2013-14 when he scored 22 goals and made 8 assists, the player has struggled with fitness issues. Liverpool fans still cling to that glorious partnership he made with Luis Suarez (see video above) that so nearly guided the Reds to glory, but it doesn't appear that the 27-year-old will have the chance to reach those heights again on Merseyside. In the two seasons since then he has scored 4 and 8 goals respectively in the top flight.
Former Rangers forward Kris Boyd has urged Sturridge to seek a move away in an effort to secure first team football. Boyd is under the impression that the striker isn't really favoured by Klopp, and said: "Does Klopp really fancy Sturridge? Even when he's fit, he's not played a lot of football."
It has always been plain to see that Sturridge is a striker with fantastic finishing ability, but he doesn't have the same qualities as Firmino when it comes to linkup play and tracking back. Klopp wants his players to be giving 100% all over the pitch no matter what their specific position normally is.
West Ham are believed to be interested in signing Sturridge, and the Liverpool forward could be the ideal focal point for the Irons. Slaven Bilic is in dire straits at the moment and desperately needs to find a way to clamber back up the league table.
If Sturridge wants to continue as England's first choice striker then he needs to be getting regular first team football. It is looking increasingly likely that he will not get that at Liverpool. Therefore, it would be in his interest to push for a move away from the club in January in an effort to revitalise his career.