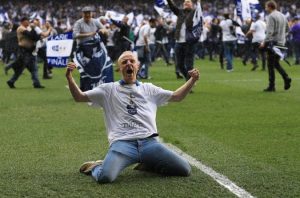 As a neutral I was a little embarrassed for Spurs and their fans at the end of this fixture last season. Yes they'd beaten a poor Manchester United side on the day by two goals to one, thanks to an early first half goal from Wanyama and an early second half goal from Harry Kane. However, some of their fans celebrated the victory in the stands and on the pitch as if they'd won the league that day.
Now I know it was the last ever game at their old White Hart Lane ground and I also know it was the first time in 52 years that they remained undefeated at home all season. Of course it was emotional, I get that, I just thought some of the celebrating was way over the top. Don't get me wrong, I have no issues with people going on the pitch and making the most of the moment. I just thought some of their fans would have had a much more muted celebration, rather than some of the scenes that I witnessed on 14th May 2017.
If they'd actually won the league along with having remained undefeated in their last ever season at White Hart Lane, then that would have been a brilliant story and a great ending to their famous ground. I myself did actually want them to win the league ahead of Chelsea last season. I also wanted them to win the league the year before too when it was between them and Leicester City, but they blew it towards the end of the season, although Leicester were superb.
Anyway, in that game Rooney pulled a goal back for the reds with about twenty minutes to go and if I'm not mistaken was that his last ever goal for the club? Apologies if I'm wrong. Either way I know he finished with four more than the great Sir Bobby Charlton to finish as United's greatest ever goal scorer. Not that Gary Lineker was Spurs greatest ever striker but as a kid I'll always remember Lineker himself scoring his last ever goal for Spurs at Old Trafford against United, not sure why, then he moved to Grampus Eight in Japan. Funnily enough, that is where Arsène Wenger joined Arsenal from after managing out there for just over a year.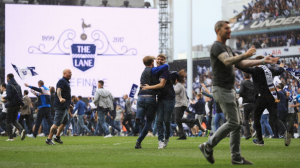 Anyway, on to tonight as these two clubs now face each other once again and this time at Spurs' temporary home of Wembley where they have been all season, until they move into their new ground at the start of next season. Hopefully. Tonight's Premier League match is live on television on BT Sport 1 at 20:00hrs and hopefully it'll be a cracking game to end this week's rare occasion of midweek league fixtures.
Kane is the man to watch as the guy is in some outstanding goal scoring form once again, like he has been on so many occasion over the years. He might not be the main focus mind due as I'm sure all the media attention will be on United's new signing Alexis Sanchez. After he left Arsenal recently in a swap deal with Henrikh Mkhitaryan. Will he score tonight? I reckon he might. I reckon Jesse Lingard will be playing too as he likes to score at Wembley doesn't he?
Prediction time: Tottenham Hotspur 1 v Manchester United 2.