Huddersfield Town are playing in the Premier League for the very first time so many Premier League teams haven't played them for quite a while. I'm aware a few clubs like Spurs and Leicester have been there already this season but this weekend the big boys of Manchester United are in town to visit the John Smith's stadium. Looking into it too, it looks as if the last time they played each other in Huddersfield was way back in 1971.
Anyway, ahead of their fans heading into Huddersfield this weekend, along with any other visiting Premier League teams this season. We have done you your very own quick reference pub guide to help you out on the day, all courtesy of an actual Huddersfield Town fan. I hope you all find the following of good use, if you do then please feel free to share with all your friends on social media. If not, please let us know in the comments field below. Thank you.
The Rope Walk – usually mixed for both sets of supporters but not always so welcoming. Also gets packed pretty quickly too so you have to stand outside. Therefore getting drinks is a nightmare due to the queues, although the staff do try their very best to get people served as quickly as possible. Closest pub to the ground.

The King's Head – a real ale pub at the train station. Has been known to house both sets of fans due to it's location. However with Manchester United being from the Red Rose county it may only be home fans only on the day this weekend.
The Cherry Tree – a Wetherspoons pub – Huddersfield Town fans only so away fans best avoid. Usually heavily policed as well as has been plenty of trouble around there in the past.
Yorkshire Rose – country type pub off Leeds Road on the way to the ground from town. Is mixed for both home and away fans but is restricted on numbers so not wise to try to get in an hour before kick off.
The Crown Hotel – unsure if a home or away pub so always worth a try on the day if you're that side of town. It's a traditional chain type pub which serves food all day.
The Sportsman – just north of the train station passed The Kings Head and does welcome away supporters. Various cask and craft ales at good prices. Serves good pies too.
The Gas Club – off Gasworks Street as you head east out-of-town to the stadium. I've heard it's popular with both home and away supporters but I've also heard that previously it's been the scene of many skirmishes. Plus £2 to get in.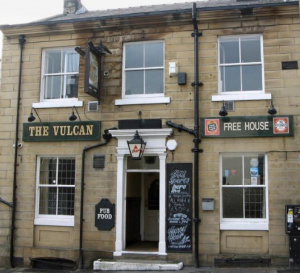 The Vulcan – small pub which locals usually go to, so on match days it is Huddersfield Town fans only. Away fans best to avoid if you can.
The Slubbers Arms – a good real ale pub way north of the town centre and not really on the way to the ground. Does welcome both sets of fans but not many away fans go that way. Maybe worth a try if coming into Huddersfield from that direction.
The Head of Steam – another real ale pub at the train station. Has been a mix of home and away fans like The King's Head due to its location. Again though due to the Lancashire/Yorkshire rivalry it may just be Town fans only this weekend.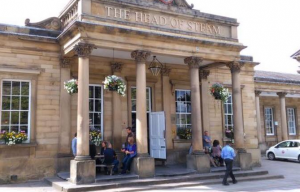 Alternatively if you're heading straight to the ground via car, coach etc then they do serve beer in the ground. Enjoy your visit.