In a year when there wasn't a World Cup for football fans to hang their hats on, the Euros were there to fill the void and in 2016 the eyes of the world were on France. Of course, world champions Germany were one of the teams to beat heading into the event, but who else were the bookies tipping to win Euro 2016? It certainly wasn't the eventual Euro 2016 champions Portugal.
As ever, England enjoyed some love from the fans ahead of the tournament, but players such as Wayne Rooney really did not shine at all. As ever though, there was a host of questions heading into the European showdown before it began, so we've found out what was being said before some of the top Euro 2016 sides went into the tournament. Remember, the below was written before last summer.
Germany
"Starting at the top of tree, world champions Germany are currently ranked as the top pre-tournament team. Although Germany were not at their best in the qualification rounds, midfielder Marco Reus made the point recently that his country rarely fails to make the semi-finals of an event.
Although football fans from different countries might not like to admit it, Reus has a valid point. Of course, Germany don't always reach the semi-finals, but they do manage to make it deep in a competition on a regular basis. This will likely be the case again in Euro 2016 as the side should make it through the group stages (against Northern Ireland, Poland and Ukraine) with relative ease."
France
"Host nations always perform well in international competitions and the current form suggests France will continue this trend. Although the current squad is level below the one that won the World Cup in 1998, the players will be guided by one of those World Cup heroes in the form of manager Didier Deschamps.
Of course, that doesn't mean the side will be imbued with his winning ways, but it does mean the players will have some experience to draw from. Indeed, if experience counts for anything, then France could be a threat later this year."
Spain
"Despite a relative fall from grace since winning Euro 2012. Spain's players are always dangerous and things won't be any different in 2016. In fact, despite being the current holders, Spain will probably feel like the pressure is off given their recent performances.
Another reason Spain could upset the form books and retain their title is the recent emergence of home-grown striking talent. In recent years Spanish strikers have struggled in domestic competitions and been overshadowed by the likes of Cristiano Ronaldo and Lionel Messi. However, with players such Aritz Aduriz finding their form in recent months, there's now hope among Spanish fans that their side can take on Europe's best."
Belgium
"Although Belgium do not have as much "star power" as some international sides, the country always manages to compete on the European stage. By playing as a solid unit with some touches of brilliance (thanks to players such as Eden Hazard), Belgium always give the top teams a tough test and that will certainly be the case at Euro 2016."
England
"Always a pre-tournament favourite but often failing to deliver when it matters, England will head into Euro 2016 as a side in form. However, while England may be a strong outside bet for a number of punters, they'll have to produce something special if they want to challenge the likes of Germany and France.
In qualification, England have certainly looked solid with a 100 per cent winning record. However, just as Germany traditionally reach the semi-finals, England always seem to make it hard for themselves and this could be the case in France this summer."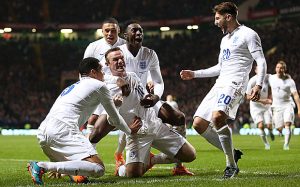 There it is then, they were the Euro 2016 tips, how wrong were we as Portugal went on to win their first major trophy.