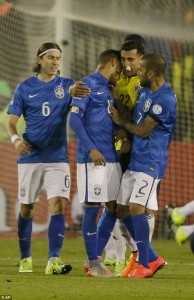 Brazil forward Neymar stole the headlines just a fortnight ago after scoring the final goal for Barcelona in their 3-1 victory over Juventus in the final of the UEFA Champions League.  And now, 14 days on he's stealing the headlines once again, but this time for some extremely different reasons. The superstar found his name flashed across the headlines the world over after he got involved in a heated altercation with the referee and opposition players during his national side's 1-0 loss at the hands of Colombia.
The forward vented his frustration in an extremely negative manner as he smashed a dead ball at Colombia's Pablo Armero who was facing the opposite direction. Then, in an even more impudent show of audacity, the star attempted to headbutt Colombia defender Jeison Murillo. This silly act snowballed into a massive bust up that went on to involve both sets of players, the substitutes and the non-playing staff to create one ugly scene.
Neymar has since been banned for his country's next four matches and fined a sum of $10,000 by CONMEBOL, South America's football governing body. He is therefore, ruled out of the Copa America which should deal a great blow to his nation's aspirations at the continental tournament. At this point of time, I am trying to gauge what exactly is going through his mind right now. The first question that comes to my mind is, would Neymar have been sent off had he not gone onto aim a headbutt at Colombia's Murillo?
I would like to think that he would not have been sent off for just the initial act of kicking the ball at Armero. But exactly why he went on to headbutt the opposition team's goalscorer on the night, Jeison Murillo remains unknown. The Brazillian has developed a reputation for being somewhat of a bad boy over these years and it is not surprising to see why, but rather than dissecting his past I'd like to see where he goes in the future. The first thing that we need to know is what the guy needs. An arm around the shoulder or a kick on the buttocks? Too often have we seen young guns like him with the world at their feet go astray thanks to their defiance and lack of adherence to the rules.
Yes, I will accept that he is immensely talented but so was Adriano and Robinho before him. Had he kept his cool and manners during the game, he could have helped Brazil go on and actually claim a medal from the tournament. Now though, all he will be able to do is help himself to some crisps as his teammates take on the knockout stages of the Copa America. Before I end this, I'd like to hope that Neymar actually looks back on his actions with some regret and I'd like to hope that he does not lose his humility in the process of being one of the biggest names in the world of football, because no matter what, the more grounded our stars are, the more they are loved.