FIFA regulates the international football and rules out standard measurements for all international football grounds. But other clubs and domestic football fields are not bound to these rules and regulations. They are free to have independent measurements for their football grounds. According to FIFA the field should be between 100meters to 105meters in length, and the width should be between 64meters to a maximum of 75meters. But the other clubs and domestic football fields can range anything between 90-120 meters in length and 64-75 meters in width.
Football governing bodies like UEFA (European Football Regulatory Body) has its own rule for football field size. They say that the minimum length of a football field should be 100meters and should not exceed 105meters. The width should be a minimum of 64meters and should be no longer than 68meters.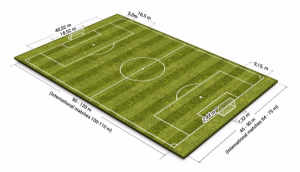 The measurement variation is still a question for thousands of people whether it affect the real game or not? Well I would say it affect the game. It depends on various factors but you cannot ignore the measurements. If the pitch size is maximized then it creates an extra playing space of 10,800 square meters giving more space to opponents to pass and run.
A small pitch provides a skillful game for both teams. Reduced space will favor defensive play rather go for long shots. It provides a favor to the team who plays a skillful game rather than fast moving. A small pitch also helps crowding for defensive team and increasing the likelihood of defensive fouls and free kicks.
Usually different clubs have different dimensions in respect to their playing skills. A home ground can maximize or minimum a field size depending on their level and skill of play with the opponent. This provides an advantage to the home team to execute their skills and favor the game.
For example Stoke City has one of the narrowest grounds in EPL. This effectively helps their style of play. On the other hand Barcelona has a very wide pitch that helps them to pass and move gameplay. They provide more space to their players to run.
Thus a field size will always matter to the two teams. It will help them play their own style to favor the match and defend the opponent. Graeme Souness in 1987 gave an instruction to the groundskeepers to limit the pitch size as Ukraine had very strong wingers. This made the players to limit their touch line just after 15 paces in their next match. But today most of the Premier League matches are limited to same field sizes with a difference of one or two meters.