As we approach the crunch point of the season, Arsenal are set to play Leicester, Manchester United, Tottenham and not to mention Barcelona all in a month. You have to ask is this their best chance to win the league?
The north London club are in with a great shout for the title. This season has been one of shocks, Chelsea have put up the worst ever defence of a Premier league crown, Manchester United have been floundering and despite their millions Manchester City have been unpredictable. Surprisingly it is Leicester who have taken the league by storm and are now table toppers.
Arsenal will be hoping to put their title credentials to the test when they face off against the foxes on the 13th February. If they are to seriously contend the gunners have to win. It was a great game last time around, with Arsenal coming out on top at the King power winning 5-2.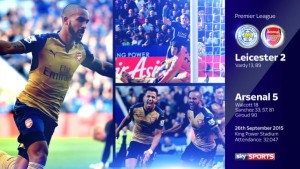 But recently there have been question marks over their ability to produce in 'big matches.' This comes after the 1-0 defeat to Chelsea. But with Alexis Sanchez back fit this is now time to prove they can do it. It will be a huge boost to have him back, with the Chilean scoring a hat-trick in the reverse fixture.
What's changed since last season?
Petr Cech has been the major change in personnel since last season and what a difference he has made. The Czech goalie has been fantastic and finally the Gunners have some steel in between the post, he has been instrumental in organising the defence properly.
This season the squad is also coming off the back of winning back-to-back trophies. After such a baron run, winning one trophy can set you on the path for more trophies and bigger trophies. The team finally has a winning mentality. Tomas Rosicky believes Arsenal have what it takes to go all the way.
They are older and starting to deliver. The majority of the team are now approaching their peak years. Theo Walcott has been in great form after a difficult start and was instrumental in beating Leicester and Manchester City earlier in the season.
Olivier Giroud finally looks like a world class striker. The Frenchman has always been considered a bit of a 'nearly' player, but he now looks terrific leading the line. He has been banging them in for fun this season. Along with Giroud, Mesut Ozil is starting to look like the £42 million that Arsenal paid for him and has been excellent this season. The German has 16 assists to his name and has created an astonishing 100 chances so far this campaign.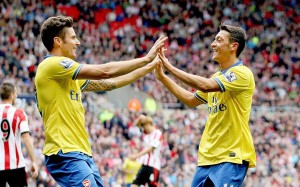 What happens after Leicester?
Leicester is undoubtedly a must win match, but the title deciders will continue to come. Arsenal travel to London rivals Tottenham and play Manchester United at Old Trafford. It is imperative not to lose at Tottenham and surely have to beat United to stay in the hunt.
Unfortunately for Gunners fans Tottenham are well in the title race. Arsenal have already beaten them at White Hart Lane in the League cup but to give away three points to title rivals would be a huge disappointment. If they were to win, surely they would be favourites for the title. United will be a tough test, but surely the Red devils are out of the race and shouldn't be considered such a threat.
Arsenal are also on the hunt for a treble. This has its pros and cons but despite being given no chance against Barcelona, if they were to win, it would give them a massive mental boost going into the later stages of the season. Loosing, however, could mentally fatigue them as they come unstuck again, in one of the 'big games'
Why couldn't they do it next season?
This season has been unlike any other, nobody could have foreseen the unpredictability that has happened. But with the enormous influx of money that will come into the league next season, every football club will become more competitive.
It is also difficult to see United and Chelsea being quite so poor again next season and the arrival of Pep Guardiola will only add to the optimism of Manchester City.