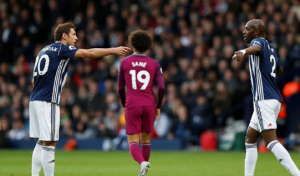 You could say Leroy Sane loves playing at West Brom couldn't you? You could also say he just needed a bit more confidence from scoring a few goals. As since he got two at The Hawthorns in the Carabao Cup last month, the German International has scored six goals as well as helping his team mates out with five assists. All of which in just six games. What position does Leroy Sane play? Well, his best just seems to be that outside left forward position as that is where he seems to be the most devastating. His ability to break quickly and attack defenders in superb.
City have taken most teams apart at times this season but when they have had a battle they still seem to come out on top. There has been a few close fought games this season, Bournemouth, Chelsea and to a certain extent Wolves just last week as week. Saturday just gone was no different with ex-City and all-time Premier League appearance holder Gareth Barry showing them he can still do it. Assisting with the Baggies two goals as well as being a constant thorn in against the City midfield.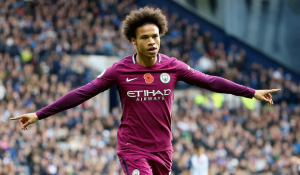 Sane himself got the first, Fernandinho the second but it was a tough contest but in the end the Manchester club managed to find a third as well. If Sane has formed recently, then Sterling has had it all season. He must absolutely love playing under Pep Quardiola now after an indifferent first season together last year. He seems to be involved in a City goal every game now, whether he's scoring it, assisting or actually starting the move that brings in-goal.
He has the form of when he first came on the scene whilst playing for Liverpool a few years ago. He has a total of nine goals already but what stands out to me is the timing of his goals. He's not been getting goals when his team are already a few up or the game has already been won. He's been getting the opening goal, the goal to put City in front or the actual winner like he did away to Bournemouth in injury time.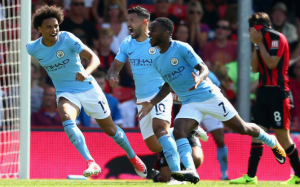 Manchester City seem to be marching away with it on all fronts then and would love to continue that going into the International Break. Up next though is two more tough games, Napoli away in the Champions League tonight before facing Arsenal at home in the Premier League on Sunday. I'm predicting two more wins, what about you?